Accommodation
General
Little Pudding Cottage is private and secluded with no close neighbours. The cottage is very well equipped, with comfortable furniture and has a homely and rustic feel.
Energy
Little Pudding Cottage is, as much as possible, an eco-cottage, and is not reliant on mains services. The cottage has solar PV panels and a generator/batteries for electricity, while excess electricity from the panels (this happens a lot in the Summer!),  the wood burner, and the (less green!) oil-fired boiler provide constant hot water all year round (the water supply is from our own borehole). There is also oil-fired central heating to supplement the wood burner, for colder periods.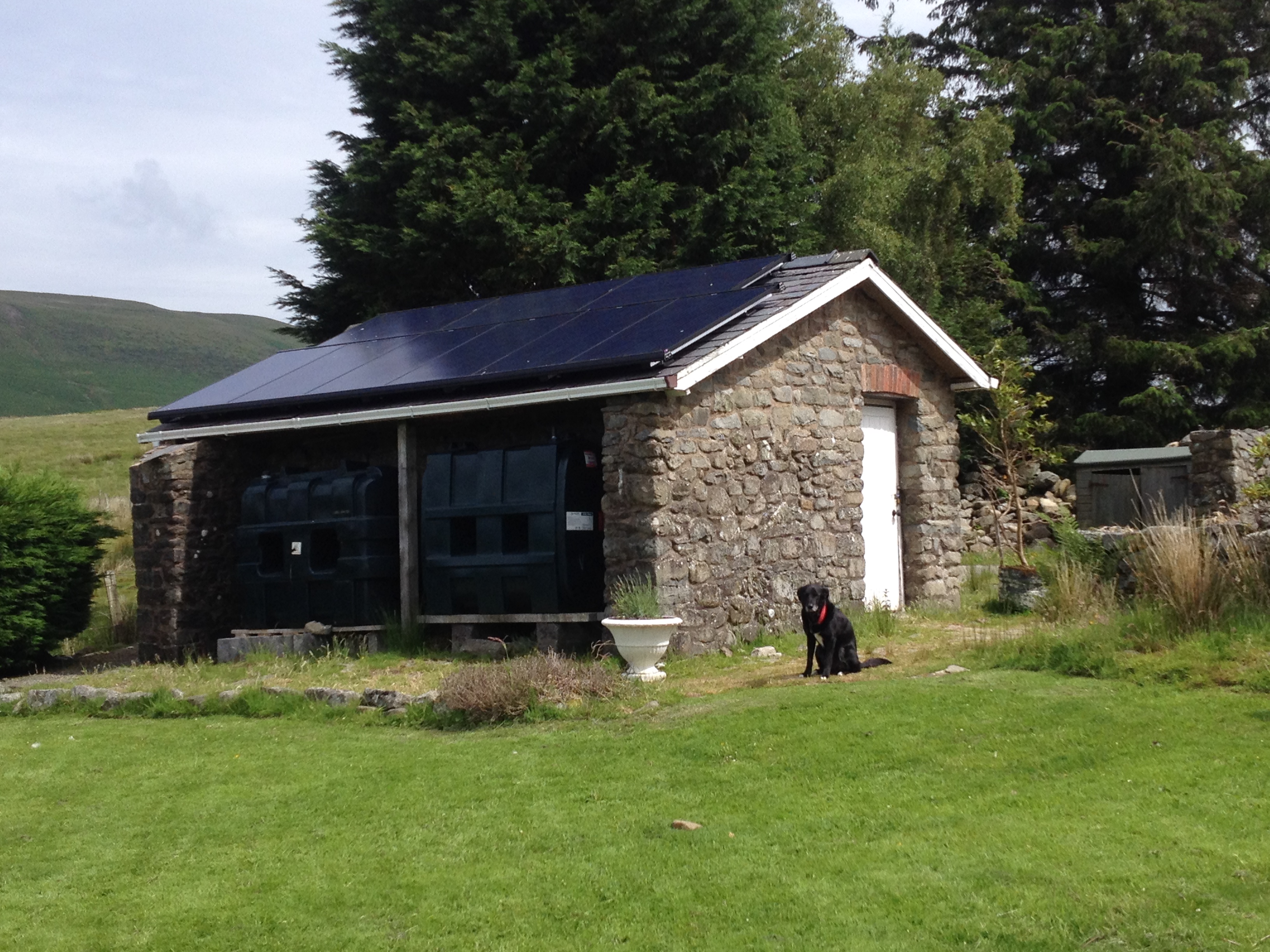 Satellite TV and broadband
There are internet and TV facilities for those wanting to stay in touch with the outside world. For those that don't, simply leave it switched off!!
Little Pudding Cottage sleeps 4
The cottage has two charming bedrooms with cupboard storage, duvets and pillows. The larger room has a king size double bed (5 foot) and the smaller room a standard double bed (4 foot 6″). There is also a cube bed/chair in the main bedroom. We ask that you bring your own bed linen and towels for the duration of your stay (or hire them from our neighbours at Cwm Chwefru) cottages down the road).
Living area
Downstairs you will find a cosy sitting room/dining area with a wood burning stove on an original raised flagstone hearth, comfortable seating and a well stocked bookcase. The large dining table is perfect for candlelit dinners, or for playing one of the numerous board games that are we supply.
Conservatory
Well equipped kitchen
The kitchen is well equipped, with a gas oven and hob, microwave and utensils. A separate utility area has a fridge/freezer, small dresser with cupboards, and space for coats.
Bathroom (downstairs)
Shower, bath, toilet and sink.
Outside
The enclosed garden includes picturesque seating areas and ample parking. The barn houses the generator, and has the solar PV panels on its roof for generating electricity. It also acts as a home for the log store
Summerhouse
There is a furnished pretty summerhouse with panoramic views - ideal for drinks while watching the sun set, or a romantic candlelit dinner!
Pets welcome!
Sheep are roaming in the surrounding countryside, so dogs should be under close control at all times.
We also have a resident pheasant, Philip, who sometimes pops by for his dinner. He taps on the kitchen window if he is really hungry, and will eat from your hand once used to you.
Access
Car parking facilities are available next to the cottage, but not directly outside the front door –  a 5 metre walk is necessary across an uneven cobbled path. The nearest public transport is a bus service, which runs hourly and collects passengers 3.5 miles from the cottage outside the local pub. The nearest towns are Llandrindod Wells and Builth Wells are both 9 miles from the cottage, which has good transport links via taxis, buses and a train service (the nearest sizeable train station is Llandrindod Wells)
There are no steps to negotiate to enter the property. The cottage is on two floors. The floor level is not the same throughout the property –  there is a single step down to kitchen/bathroom, steps down into the conservatory, and a flight of stairs to the bedrooms, with a beam to duck under.
Further information
Linen and Towels:
There is no washing machine at the cottage, so we ask that you bring your own duvet covers, sheets, pillow cases and towels (and doggie towels, if you are bringing the dog!). A king size duvet and a double duvet are supplied, as well as pillows. Alternatively, bed linen and towels are available for hire from our neighbours at Cwm Chwefru cottages
WiFi & Mobile Phone Reception
Please note that the satellite WiFi is fine for emails but can be slow depending on the weather. It is not suitable for streaming music and videos. Mobile phone reception is usually poor but it depends on the service provider.
Country Life
Please keep dogs under close control at all times. Please do not allow them to worry or chase sheep under any circumstances.
Sheep roam free in the surrounding countryside' so the gate to the property should be kept closed at all times to prevent access to the garden and plants.
Any toys/balls knocked over the fence should be retrieved immediately, to prevent harm to sheep by ingestion etc.
Ceiling and door heights
This is an old cottage and was built in the days before minimum ceiling/door/window heights!
Caring For Your Safety
Every reasonable effort has been made to indicate possible safety hazards. However, it is the guests responsibility (particularly parents with young children) to inspect the property and grounds immediately on arrival and note any possible hazards. Check the layout of the property so in an emergency you can get out quickly and easily'  always be aware where the window lock keys are. Please read and respect any notices within the property.
We aim to leave you in peace to explore your surroundings in your own time – that is, after all, one of the reasons you chose a holiday is such a quiet location!